Sign up as a merchant to use Voice Ordering System
The Merchant Program is intended for service providers that want to be involved with our exciting new app that allows virtually hands-free ordering for beverages and food. This program allows your company to try our system without any long-term commitments.
Location-Aware
Attract new customers with an exciting new way to order from your establishment. Give your existing customers a new and more convenient way to order! Once the customer has tapped to select a shop, the experience is hands-free: making this an ideal solution for ordering on the go – while driving, etc.
Handles Menu Complexity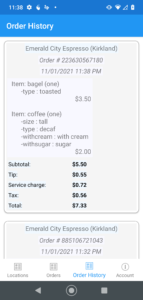 Your customers can make pickup orders for approximately 90% of the items on your menu. (For some menus we support nearly 100% of the items and features).
Fact Sheet
The App – "Voice Ordering System"

The App is available to end users – customers of your shop – on the Google Play Store. (See: https://play.google.com/store/apps/details?id=com.expertreasoningsystems.VoiceOrderingSystem). Customers can quickly download and install and use the App to make real orders at your shop.
All safety controls, as outlined in the Privacy Policy and Terms and Conditions on this site are in effect for the App.
The App allows users to make orders for any number of items. If the app user makes a mistake, they can "Cancel" everything they have said while making an order, at any time during an order. The only exception to this is after they have requested placement of the order. They may request placement of an order either using the "Buy it now" functionality or by using the Payment Page and the Place Order button. We have designed the app to prevent accidental orders as much as possible.
The App allows customers to enter and use credit cards with the following exceptions: a) we do not support 3D Secure authentication at this time (this is a requirement in Europe but not in the US), b) we do not support debit cards.
Customers using the App can be assured that their financial data is handled safely according to industry standards. As a precaution, we will recommend to customers who use our App either to a) Lock their smartphone or tablet device whenever physical safety of the device cannot be assured, e.g. when travelling, or b) Log out of their account (from the About page) when not using the App. The purpose of these precautions is to prevent malicious use of the customer's installation of the App to make unauthorized orders in the event of a stolen or lost phone.

The cloud platform

We have a cloud platform that supports the processing of customer orders; this enables us to process orders and to meet our obligations to you as a service provider.
We use the Stripe platform for payment processing (https://stripe.com/).

Payment Information

When a customer makes an order using the app, a modest service charge is applied: this is computed, per order, as 6% of the order total (excluding tip and tax).
We use Stripe to pay you, the service provider.
As a marketplace facilitator operating in the State of Washington, we are under obligation to collect and remit sales tax.
We charge you, the service provider, 6% of the order total (where this total includes only the order sub-total and tip; it does not include sales tax or the customer service charge). There are no other charges to you for using our service.
Customer orders are capped at $50 – if a customer attempts to place an order for more than that amount they will receive a message that the order cannot be processed due to that limit. (At that point they will need to restart the conversation and make a new order).
Customers can use the App to select a tip rate, which will be applied to all orders that they make until they change it. This can be 0% or any amount up to 50%. (In order to meet Washington State criteria for sales tax on tips, this value is set by default to 0% upon first installation of the app).

Our Obligations

Payouts on a regular schedule
Monthly sales report

How to start – contact us to:

Get instructions on how to download the App and try it out in test mode.
Sign up for a Stripe "Connected Account". We will provide you with full instructions and any assistance that you need to do this. This allows us (a Stripe "Connect Platform") to pay you (a Stripe "Connected Account"), and it allows you to view sales and payout information. (The Stripe Connected Account Agreement is at https://stripe.com/us/connect-account/legal).
For full details on data privacy and terms, please see Privacy Policy and Terms and Conditions.